Honor Scouting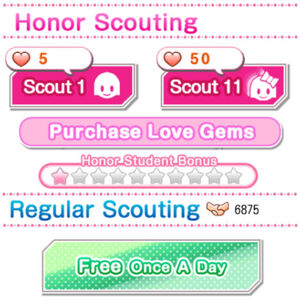 Honor Scouting
is the primary means of acquiring Super Rares and Ultra Rares. Honor Scouting costs 5 Loveca Stones and grants you one student of Rare quality or better. You may also choose to spend 50 Lovecas at once in order to scout 11 students (one free student) of Rare quality or better (spending 5 Loveca Stones 10 times will
not
entitle you to one free student, it must be through the 50 Loveca Stone draw).
Distribution
In general, the chances of getting the different qualities of cards are:
UR 1%
SSR 4%
SR 15%
R 80%
Occasionally (particularly after events, ending when the next event starts), there will be a special campaign where scouting 11 students at a time will guarantee that at least one student of SR quality or better. Please consult the current scouting notice for details.
Current Honor Scouting
Notice
The following new Club Members were added to Honor Student Scouting during the maintenance that ended at 9:00 am on December 31 2014 (UTC).
Umi Sonoda (UR)
Kotori Minami (SR)
Rin Hoshizora (SR)
Nozomi Tojo (SR)
Hanayo Koizumi (SR) - previously available from an event, lower appearance rate
New Honor Students have an increased appearance rate from the Honor Student Scouting until 8:00 am on January 6 (UTC). UR and SR Members have a fixed appearance rate, but the probability of getting newly added Members is higher than normal. The increased appearance rate does not apply to Hanayo Koizumi (SR), as she was previously available from an event.
That's not all! We are also running a special promotion where 11 Honor Student Scouting guarantees an SR member until 8:00 am on January 6 (UTC).
New Regular Students have also been added, so don't forget to give Regular Student Scouting a try. The appearance rate for Regular Students remains unchanged.
We hope you continue to enjoy School idol festival.
December 31, 2014
Scouting Honor Students
Rates by Rarity
Attention
Rates are rounded to the nearest third decimal place, so there are cases when the total is not a perfect 100%.
A player may Scout the same Member more than once.
Characters previously distributed in events have low appearance rates.
(Event cards have a blue color)
Scoutable Characters
UR (20 as of 2014)
Name
Attribute
Devilish Girl
Nico Yazawa
Smile
An Idol's Feelings
Hanayo Koizumi
Pure
Love Arrow Shoot!
Umi Sonoda
Cool
Stage of Smiles
Honoka Kosaka
Smile
An Angel's Singing Voice
Kotori Minami
Pure
A Midsummer's Hot Gaze ☆
Nico Yazawa
Pure
The Melody of Our Vow
Maki Nishikino
Cool
Midsummer Fruits ☆
Nozomi Tojo
Smile
The Legendary Ramen!
Rin Hoshizora
Smile
Yukata-Clad Beauty in Late Summer
Umi Sonoda
Smile
Evening Breeze Girl
Kotori Minami
Cool
I Will Take Your Heart
Eli Ayase
Cool
A Cheer for You
Honoka Kosaka
Pure
A Goal Together
Rin Hoshizora
Cool
Destined Partner
Nozomi Tojo
Pure
Soothing Menu
Hanayo Koizumi
Cool
Secret Home Cooking
Maki Nishikino
Smile
My Present to You
Eli Ayase
Pure
Your Santa
Nozomi Tojo
Cool
Happy New Year
Umi Sonoda
Pure
SR (73 as of 2014)
Name
Attribute
Full-Throttle Smile!
Honoka Kosaka
Smile
The Energy of μ's
Rin Hoshizora
Smile
Nico Nico's Smile
Nico Yazawa
Smile
Soothing Goddess
Kotori Minami
Pure
Spiritual Power
Nozomi Tojo
Pure
Freshly Cooked Rice ♪
Hanayo Koizumi
Pure
Harasho ♪
Eli Ayase
Cool
Mental Concentration
Umi Sonoda
Cool
After School Songstress
Maki Nishikino
Cool
Heart of Flames
Honoka Kosaka
Smile
Destined Card
Nozomi Tojo
Pure
Here's Your Order ♪
Hanayo Koizumi
Pure
The Secret Examination Room
Maki Nishikino
Cool
A Sheep's Feelings
Kotori Minami
Pure
Love Bind
Umi Sonoda
Cool
Take a Look at Rin, Meow ♪
Rin Hoshizora
Smile
White Bunny of Fortune
Umi Sonoda
Cool
The Beach's Sun
Honoka Kosaka
Cool
Charming Mermaid
Eli Ayase
Smile
Today Is Umi's Day ♪
Umi Sonoda
Pure
Summer Sunset Girl
Rin Hoshizora
Cool
Nico is Popular
Nico Yazawa
Smile
Sweet Marine Girl
Kotori Minami
Smile
Songstress of the Beach
Maki Nishikino
Pure
Princess on the Shore
Hanayo Koizumi
Cool
I'll Eat You Up
Honoka Kosaka
Smile
Eli's Confessional
Eli Ayase
Cool
Feigning Sleep
Nozomi Tojo
Pure
Summer Festival with Everyone
Honoka Kosaka
Pure
Let's Dance the Bon Dance, Meow!
Rin Hoshizora
Pure
Goldfish Scooping Master?
Maki Nishikino
Smile
Festival Girl
Nozomi Tojo
Cool
The Fox's Wedding
Eli Ayase
Cool
Sharing a Candied Apple
Eli Ayase
Pure
Visiting the Stalls ♪
Hanayo Koizumi
Smile
Summer Memories
Nico Yazawa
Cool
Mysterious Sympathy
Hanayo Koizumi
Pure
Amazing Sweets
Kotori Minami
Pure
Whimsical Kitten
Rin Hoshizora
Smile
Good Work!
Eli Ayase
Smile
The Capable Manager
Umi Sonoda
Pure
Victory Charm
Nozomi Tojo
Smile
Furious Cheering
Hanayo Koizumi
Cool
Breast Rub
Nozomi Tojo
Cool
Angelic Whistle
Kotori Minami
Smile
First Place Smile
Maki Nishikino
Pure
Nico Nico Support
Nico Yazawa
Cool
Let's Go Moon Viewing, Meow!
Rin Hoshizora
Pure
You're My Next Prey
Maki Nishikino
Cool
I'll Teach You ♪
Nico Yazawa
Smile
Blissfully Snatching Food
Honoka Kosaka
Cool
Specially Made Borscht
Eli Ayase
Pure
Here, Open Wide ♪
Kotori Minami
Smile
Family-Oriented Idol
Nico Yazawa
Pure
Let Me Serve You ♪
Maki Nishikino
Smile
Giving Thanks to the Food
Umi Sonoda
Smile
Handmade Ramen
Rin Hoshizora
Pure
Full Course Meal of Fortune
Nozomi Tojo
Cool
The Autumn of Reading
Eli Ayase
Smile
Silent Night
Umi Sonoda
Smile
Christmas Bell
Rin Hoshizora
Cool
Christmas Carol
Maki Nishikino
Smile
A Good Girl on Christmas
Nico Yazawa
Pure
The Angel of the Nurse's Office
Kotori Minami
Cool
Candle Night
Honoka Kosaka
Pure
White Christmas
Kotori Minami
Cool
Christmas Feast
Hanayo Koizumi
Smile
Homura's Poster Girl
Honoka Kosaka
Pure
An Amazing First Dream
Kotori Minami
Pure
Great Luck This Year!
Rin Hoshizora
Smile
New Year's Fortune
Nozomi Tojo
Smile
A Fuku Musume is Here
Nico Yazawa
Cool
Fairy of the Rink
Hanayo Koizumi
Cool
R (27 total)
Name
Attribute
Honoka Kosaka
Smile
Eli Ayase
Smile
Kotori Minami
Smile
Umi Sonoda
Smile
Rin Hoshizora
Smile
Maki Nishikino
Smile
Nozomi Tojo
Smile
Hanayo Koizumi
Smile
Nico Yazawa
Smile
Honoka Kosaka
Pure
Eli Ayase
Pure
Kotori Minami
Pure
Umi Sonoda
Pure
Rin Hoshizora
Pure
Maki Nishikino
Pure
Nozomi Tojo
Pure
Hanayo Koizumi
Pure
Nico Yazawa
Pure
Honoka Kosaka
Cool
Eli Ayase
Cool
Kotori Minami
Cool
Umi Sonoda
Cool
Rin Hoshizora
Cool
Maki Nishikino
Cool
Nozomi Tojo
Cool
Hanayo Koizumi
Cool
Nico Yazawa
Cool
Scouting General Students
Rates by Rarity
Attention
Rates are rounded to the nearest third decimal place, so there are cases when the total is not a perfect 100%.
A player may Scout the same Character more than once.
Characters previously distributed in events have low appearance rates.
(Event cards have a blue color)
Scoutable Characters (54 as of 2014)
R (27 total)
Name
Attribute
Honoka Kosaka
Smile
Eli Ayase
Smile
Kotori Minami
Smile
Umi Sonoda
Smile
Rin Hoshizora
Smile
Maki Nishikino
Smile
Nozomi Tojo
Smile
Hanayo Koizumi
Smile
Nico Yazawa
Smile
Honoka Kosaka
Pure
Eli Ayase
Pure
Kotori Minami
Pure
Umi Sonoda
Pure
Rin Hoshizora
Pure
Maki Nishikino
Pure
Nozomi Tojo
Pure
Hanayo Koizumi
Pure
Nico Yazawa
Pure
Honoka Kosaka
Cool
Eli Ayase
Cool
Kotori Minami
Cool
Umi Sonoda
Cool
Rin Hoshizora
Cool
Maki Nishikino
Cool
Nozomi Tojo
Cool
Hanayo Koizumi
Cool
Nico Yazawa
Cool