Score Match Round 31
Time
Start
Fri, 16 Mar 2018 09:00:00 +0000
End
Mon, 26 Mar 2018 08:00:00 +0000
Main Prize
Other Prizes
Score Match Round 31 was a Score Match Event featuring Nico Yazawa and Nozomi Tojo as the main rewards.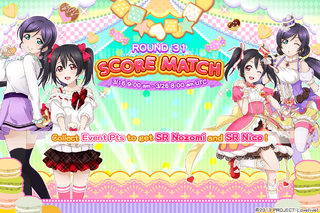 Event Rules
Participate in the Score Match to get an SR Nico Yazawa and Nozomi Tojo!
Tap "Join a Score Match!" on the Event Top Page.
Select difficulty level. The higher the difficulty, the better the rewards when completed successfully!
Select a Team. After you have selected a Difficulty a song will be assigned randomly. Select a Team you wish to use. Mind the timer!
You can chat to the others while you wait for the Match to start.
When all participants are ready the Live Show will start.
You will only get a small amount of Event Pts no matter how high the Score. Try not to fail!
Event Pts you receive will depend on the Difficulty Level. You will also get a bonus according to your Score and Rank. You can also chat to the others on the Results screen.
If an event finishes while a player is playing a Live Show, they will not gain Event Pts, so please keep this in mind. (EXP, G and Club Members are still rewarded.)
Song List
About the Rewards
If you earn a certain amount of Event Pts you will receive Event Rewards. Collect your rewards from the Presents.
Event Ranking Rewards are given to high ranking players at the end of the event. Aim for the top ranks!
Honor Students and Regular Students given as Rewards can be Scouted through the Honor Student Scout and Regular Student Scout screens after the event is complete.
Event Point Rewards
Event Ranking Rewards
Score Match Pts. Ranking Rewards
Rank
Reward
Qty
1 - 1200
SS Sticker
1
S Sticker
3
N Sticker
20
 1201 - 3900
S Sticker
3
N Sticker
20
 3901 - 8400
S Sticker
2
S Sticker
20
8401 - 15000
S Sticker
1
N Sticker
20
 15001 - 24200
N Sticker
20
 24201 - 37000
N Sticker
15
 37001 - 54500
N Sticker
10
 54501 - 81500
N Sticker
5
81501 - 120000
N Sticker
1
Event Cards
Maria (Normal #1221)
Max Level: 40
2
2400
820
440
Appeal: none
Center Skill: none
Sweets Version (Super Rare #1222)
Max Level: 80
4
3870
4670
3620
Appeal: Sweets Are the Best ♪
For every 21 Perfects, there is a 37% chance you'll gain 335 Score points.
Center Skill: Pure Heart
Pure pts. up by 6%
Sweets Version (Super Rare #1223)
Max Level: 80
4
3390
3970
4820
Appeal: Nico's Specialty
For every 22 Rhythm Icons, there's a 31% chance the timing window will ease slightly for 3.5 seconds
Center Skill: Cool Heart
Cool pts. up by 6%
Final Results
Event Rankings
| Rank | Event Points |
| --- | --- |
|      1 | 1201609 |
|   1200 | 109739 |
|   6100 | 60940 |
|  14800 | 39268 |
|  30600 | 15671 |
|  54500 | 2981 |
|  81500 | 240 |
| 120000 | N/A |
Score Match Points
| Rank | Event Points |
| --- | --- |
|      1 | 37002 |
|   1200 | 25383 |
|   3900 | 23883 |
|   8400 | 22898 |
|  15000 | 21531 |
|  24200 | 19109 |
|  37000 | 11898 |
|  54500 | 4650 |
|  81500 | 274 |
| 120000 | N/A |