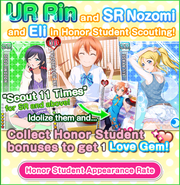 Notice
The following new Club Members were added to Honor Student Scouting during the maintenance that ended at 10:30 am on August 27 (UTC).
Rin Hoshizora (UR)
Nozomi Tojo (SR)
Eli Ayase (SR)
New Honor Students have an increased appearance rate from the Honor Student Scouting until 10:00 am on September 1 (UTC). UR and SR Members have a fixed appearance rate, but the probability of getting newly added Members is higher than normal.
That's not all! We are also running a special promotion where 11 Honor Student Scouting guarantees an SR member until 10:00 am on September 1 (UTC).
New Regular Students have also been added, so don't forget to give Regular Student Scouting a try. The appearance rate for Regular Students remains unchanged.
We hope you continue to enjoy School idol festival.
August 27, 2014
Scouting Honor Students
Rates by Rarity
Attention
Rates are rounded to the nearest third decimal place, so there are cases when the total is not a perfect 100%.
A player may Scout the same Member more than once.

Characters previously distributed in events have low appearance rates.

(Distributed Characters have a

blue

color)
Scoutable Characters (64 total)
Scouting General Students
Rates by Rarity
Attention
Rates are rounded to the nearest third decimal place, so there are cases when the total is not a perfect 100%.
A player may Scout the same Character more than once.

Characters previously distributed in events have low appearance rates.

(Distributed Characters have a

blue

color)
Scoutable Characters (54 total)